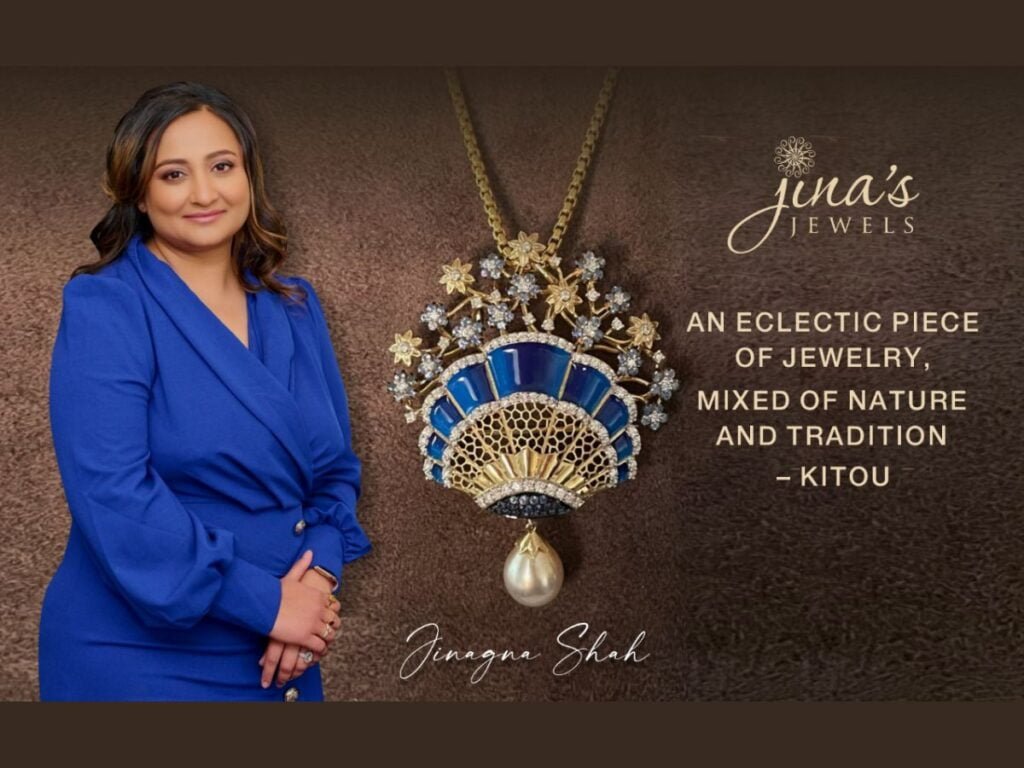 MIXED OF NATURE AND TRADITION – KITOU, Designed by Jewelry Artist Jinagna Shah
New Delhi (India), January 4: Presenting a piece of art created by Jina's Jewels for a prestigious North American Award Show that took place earlier this year. Jinagna Shah, Founder of Jina's Jewels, is not only a renowned jewelry designer, but she dons many hats – Gemologist, Jewelry Historian and Appraiser and a true jewelry artist. The historian in her wants to blend the best of all eras into her work, and the artist in her follows the intense calling towards Nature.
'Kuitou' is an art in itself and is associated closely with traditional Chinese culture – Chinese Opera, whereas every region has its own style and representation. The ebb and flow of oceans have been witnessed to the history of mankind on Earth, the rise and fall of civilizations and of Empires and these stories are whispered by the waves. Inspired by the Chinese tiaras and the elements of water, Jinagna Shah at Jina's Jewels has created the exquisite piece "Kuitou". After numerous design drafts and brainstorming sessions between Jinagna and her team, this piece came to life.
Both tiaras and seashells have various intricate details, and the same has been replicated as the frame for our design. The mesmerizing colors of the waves are mirrored by various shades of natural Blue Sapphires. The varying colors of blue are shown in the enamel work as well. "Kuitou" also features a South Sea Cultured Pearl drop representative of the water bodies. The shapes, metal finish and the play of light that reflected and dispersed from the surface of this piece remarkably capture the essence of both concepts in one.
"Kuitou" has a special feature in terms of wearability, it can be adorned as a brooch or can be attached to a chain to be worn as a pendant.
Though "Kuitou" instantly sold out, Jina's Jewels aims to create more of such exceptional pieces of art with a touch of history and modernism. To check other stunning collections curated and designed by Jina's Jewels visit e-commerce website www.jinasjewels.com
Jina's Jewels is nothing but the future of mesmerizing jewelry. Recreating classics lies as the cornerstone at Jina's Jewels. Every piece sold here is well-designed and crafted to retain its originality and uniqueness. The final execution of every piece is coupled with conceptualization, research, and innumerable drafts of the pattern concluded with the final stone setting.
Our proprietor Jinagna Shah, is a certified gemologist and jewelry appraiser. You can get in touch with us at Jinas Jewels to get your jewelry valued and certified.
With mastery in the Enamel Technique, Jina's Jewels aims to create a legacy with their exuberant Plique Enamel Collection, that comprises of light-colored enamel with gold and silver base metal.
With a promise to exceed your expectation with every product that we design, Jina's Jewels sets the bar high for competitors.  You can never go wrong with Jinagna's spectacular ability to transform your ideas of your dream jewelry to reality when you choose us, as we are the best gold and diamond jewelry designers in Markham, Ontario, Canada – L6B0X2. 
If you have any objection to this press release content, kindly contact pr.error.rectification@gmail.com to notify us. We will respond and rectify the situation in the next 24 hours.