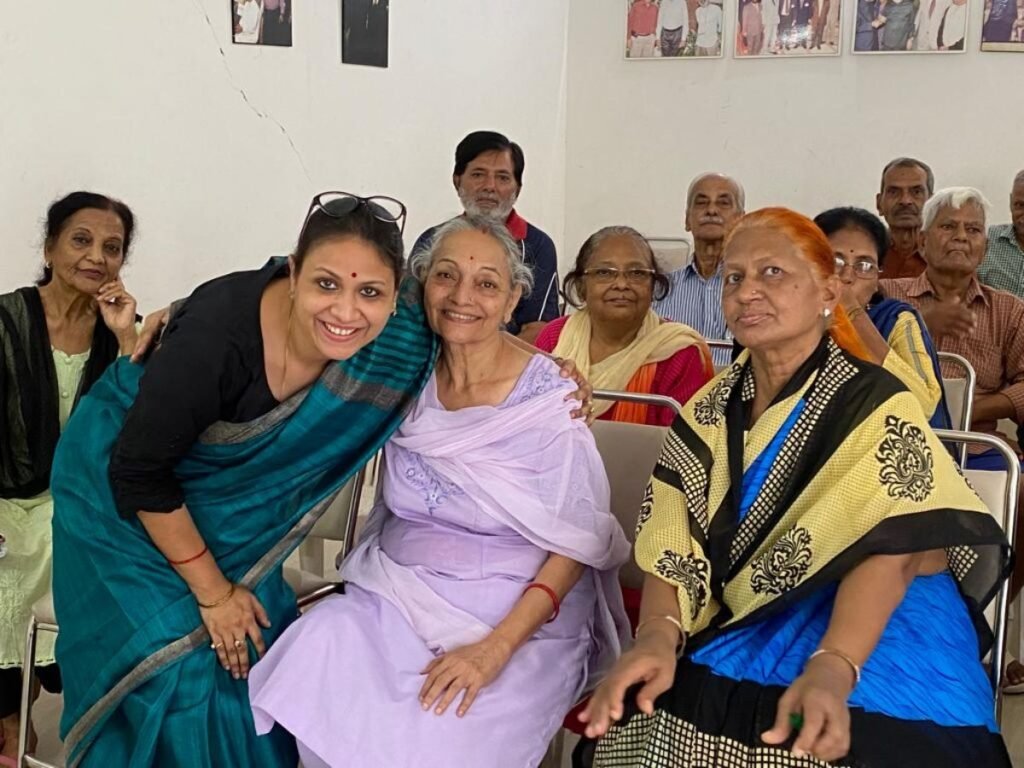 New Delhi (India), February 21: Did you know that the elderly make at least 10% of our country's population? It is a sad sight to see most of them in vulnerable conditions. Caring for them doesn't fit into the busy lifestyles of their families. NGOs that run old age homes are vital in society to care for the older and vulnerable people. They care for the ones that no one cares about. Many Old age homes and Nonprofits are doing a great job at helping the elderly, Vridhcare an initiative by Mrs Gargi Lakhanpal and Dr Shashi Khare is one of them.
Some of these thoughtful organizations are Helpage, Agewell, Healthy aging India. Growing old and needing care is nothing to be embarrassed about. It is the circle of life and one day you too will be in the need to be cared for. These nonprofits have done some phenomenal work for the old people and have served them relentlessly.
Only recently another such nonprofit opened up and has changed the way old age homes work altogether. VridhCare is a Delhi-based NGO. They not only care for their well-being but have loads of other initiatives that help them live a whole rounded 'second inning' of their life, as they call it.
They practice caring in a different way. Ever heard of Maslow's Hierarchy of Needs? For those who might not be aware. This is the way VridhCare has chosen to function. This pyramid of needs, basically lists a ranking from the most basic needs to the most advanced. This ranges from basic shelter, food and clothing to emotional support and other psychological needs.
Amidst the crisis and havoc that CoronaVirus striked on our society, Mrs. Gargi Lakhanpal had the idea behind starting the VridhCare foundation in 2019. She and the powerful team she has put together has been the reason why many elderly can live the rest of their lives with dignity and confidence. Owing to their different model of functioning they provided emotional support while also satisfying their basic needs. "The older generation is one of the most marginalized and vulnerable groups out there" says the Director and Co-founder Ms. Gargi Lakhanpal empathizing with the elderly.
VridhCare stands for their core values of integrity, dedication, transparency and fair approach. They have continued to provide for the elderly in the most trying times. Some of the other Old Age homes are 24/7 and care for their residents but VridhCare aims at taking care of them and giving them a hope of a much better life by going to the root of the issue. They see what one really needs and then their teams gets to helping them reach that goal
Joint family system is now an old legend that doesn't exist in most homes anymore. The elderly are left to fend for themselves. They find it difficult to find their footing in this fast-paced world. They also need someone to guide them with a walking stick and loving support just as they did when they taught us how to walk. VridhCare foundation helps them find new meaning in their lives. They not only provide them a comfortable shelter through rehabilitation but also push to meet their emotional support and psychological needs. The elderly also have a tonne on their plate that VridhCare aims to help them through.
The founder, Dr Shashi Khare finds VridhCare to be like a spiritual awakening for herself. Dr.Khare, a 35 year public health professional says, "it is truly fulfilling to help older people and there is always something to learn!". Their team has also taken the initiative of providing them with livelihoods that will help them to stand on their own feet. Small jobs that require new skills are always taught at the VridhAshram. This is a home that is only complete with older people and all that they do for our society. Under the efforts of Mrs Gargi Lakhanpal some of their residents have outshined through this initiative. Some innovations like the cow dung machine, a jot batti machine and organic farming.
VridhCare cares for the elders in a holistic manner. They provide them with psychological, physiological and emotional needs. This foundation cares for those who have done a lot for our society and still have a lot in them to provide. Valuable lessons and years of experience that enrich our lives. It is time we don't neglect one of the most valuable groups of our society. It is their time to shine in their golden age and live the retirement of their dreams. VridhCare will always be there for the ones that were there for us!
To know more about VridhCare and their meaningful work,
Contact them here:
Contact Number: +91-8700851044
Address: Office no – 709, 7th Floor Pearl Best Height – 1 Netaji Subhash Place, Pitampura, Delhi – 110034
Email ID: support@vridhcare.com
If you have any objection to this press release content, kindly contact pr.error.rectification@gmail.com to notify us. We will respond and rectify the situation in the next 24 hours.